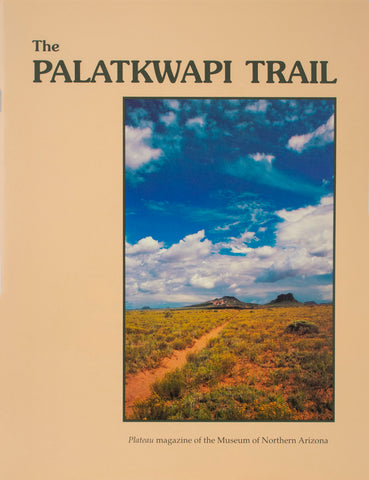 Plateau: The Palatkwapi Trail
Author: James W. Byrkit with Photography by: Doyen Salsig  
Publication Date: 1988 
Volume 59, Number 4 
This issue of Plateau informs readers about Palatkwapi, the ancient home of several Hopi clans.  
"Diaries, memories, and newspaper accounts, together with additional military and other government report, make it clear that a unique and very precise path ran from the Hopi villages to the Verde Valley by way of Winslow. […] Although the trail links a heritage common to all the people of the region, both past and present, I decided to name the road the "Palatkwapi Trail" to honor its first users and their descendants." - James W. Brykit, author 
Plateau magazine is dedicated to inspiring and educating readers by showcasing the scientific, artistic and cultural wonders of the Colorado Plateau region.
 A publication of the Museum of Northern Arizona
---
We Also Recommend