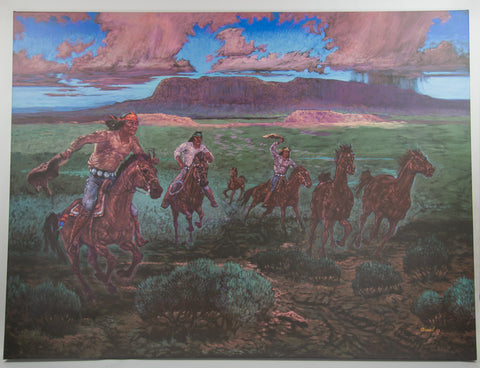 "Buckskin Round-Up" Painting by Jack Isaac
Artist: Jack Isaac is a professional artist who specializes in mural projects with broad subject matter at varying sites. Jack went to Oklahoma State Tech and earned an Associated of Arts Degree (Commercial Art). His pieces have been featured in many showings and exhibits such as: the 2002 Olympics-Navajo Festival in Salt Lake City, Utah and the 2001 Peshlakai Trading Co. and Gallery in the Grand Canyon, Arizona. 
This piece is set in 1919. The time period of Navajo (Dine') wealth in livestock of horses, sheep, and cattle. The beginning of sheep wool trading and weavings of saddle blankets and rugs of extra ordinary designs and sizes. The saddle blanket portrayed in this painting includes the addition of colored yarn wool tassels. Representing the worldly colors of the creations in Dine' legends.  
Cultural Affiliation: Navajo 
Details: "1919; Buckskin Round-Up for Bluelake" Master Painting, Acrylic on Canvas , 36'x48". 
---
We Also Recommend