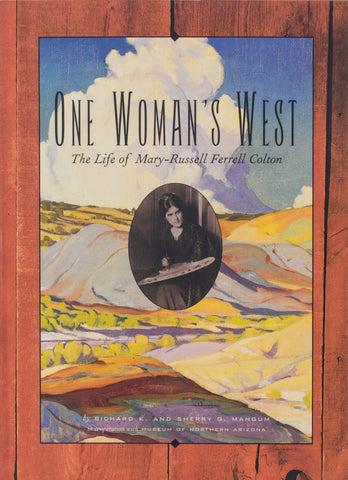 One Woman's West: The Life of Mary-Russell Ferrell Colton by Richard K. and Sherry G. Mangum
In cooperation with the Museum of Northern Arizona
The history of Northern Arizona, and of the Southwest, cannot be told fully without including this remarkable story of Mary-Russell Ferrell Colton, artist and philanthropist. In 1928, with her husband, Harold Colton, Mary Russell led the creation of the Museum of Northern Arizona, which became a home for her ideas and provided a framework for carrying them out. Among the greatest testaments to her foresight were her instrumental efforts to revive Hopi and Navajo art and prevent these distinctive traditions from being corrupted and lost.
Born to wealth and privilege, Mary-Russell used her advantages to promote a greater understanding of and appreciation for the Native arts and cultures of the Southwest. An academy-trained artist, accomplished writer and educator, she was also an independent, energetic and creative woman whose contribution to the culture of the Southwest has been matched by few others.
Accompanied by historical photos from the archives of the Museum of Northern Arizona, as well as fourteen color plates of Mary-Russell's own exceptional artwork, Richard and Sherry Mangum bring this history to life in a narrative that equals its fascinating events.
Paperback, 9 1/2" x 6 3/4", 151 pages
---
We Also Recommend