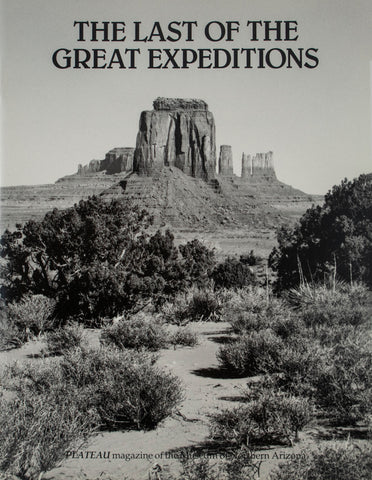 Plateau: The Last of the Great Expeditions
Author: Andrew L. Christenson
Publication Date: 1987 
Volume 58, Number 4 
This issue of Plateau highlights The Rainbow Bridge/Monumnet Valley Expedition of 1933-1938.  
"From the days of those first European explorers, who brought back incredible tales of western wonders, to the military and scientific forays of the 1870s and on into the private scientific expeditions of the late nineteenth and early twentieth centuries, expeditions have always been synonymous with adventure. The Rainbow Bridge-Monumnet Valley Expedition of the 1930s was, in many ways, the last of these "great" expeditions – large in scale, broad in scope, and romantic in inspiration. The Navajo Country of northern Arizona and southern Utah was part of the last terra incognita (at least to white men) in the American West. The anthropologists, geologists, and biologists who ventured into this harsh land certainly experienced their share of knowledge about man, his history, and his environment. This is their story." - Diana Clark Lubick
Plateau magazine is dedicated to inspiring and educating readers by showcasing the scientific, artistic and cultural wonders of the Colorado Plateau region.
 A publication of the Museum of Northern Arizona
---
We Also Recommend