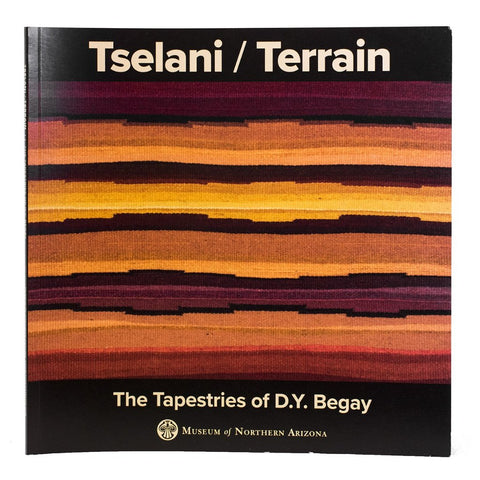 Tselani / Terrain Catalog - The Tapestries of D.Y. Begay
Contributors: Jennifer McLerran (Curator), D. Y. Begay, Carrie Heinonen, Betty Reid, Jill Ahlberg Yohe.
Description: This full-color catalog highlights the beautiful tapestries by award-winning artist D.Y. Begay from the Museum of Northern Arizona exhibition, Tselani/Terrain. This show featured
 23 tapestries woven from 1994 to 2017 and was the largest showing of her work in one place to date. 
About the Artist: "DY Begay...is a fourth-generation weaver. Growing up around female weavers, she was exposed to herding and shearing sheep, carding and spinning wool, harvesting plants for dyeing, and learning to weave in the traditional Navajo fashion. Begay's tapestries encompass her interpretation of the natural beauty and descriptive colors of the Navajo reservation and commemorate her family's tradition by using the unique and local vegetation, reflecting on her Navajo identity. This spiritual connection to the plants yields the natural colors that are transformed into evocative land formations on her loom." (United States Artists, 2018)
---
We Also Recommend